Accelerate Sales
A self learning actionable platform for Intelligent Empowerment of Enterprises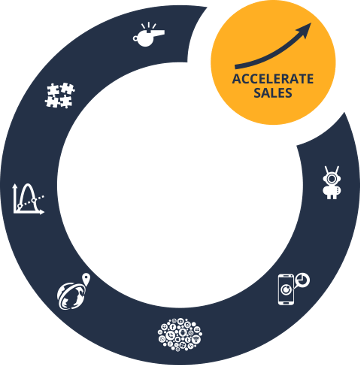 Accelerating Sales
Orbyo is a business ready platform that provides a revolutionary set of tools. Effectively, 30% of marketing spend generates 90% of revenue. Our analytical dashboard provides you with visualisation of multiple paths of spend along with marketing profitability patterns & recommendations.
Orbyo help deliver AI powered user experience. Intelligent notifications helps enterprises avoid silos and creates links between the departments in your organisation. We call this intelligent empowerment, which leads to enhancing conversions and accelerated sales.
What is Intelligent Empowerment?
The platform delivers AI powered user experience for customers & empowers employees & management with real time intelligent notifications with actionable insights. An action based self learning platform with built in Artificial Intelligence (AI) & Predictive Analytics capability. Proven to Accelerate Sales
ORBYO Components
The components that helps you use technology to empower your existing resources, to grow your business and accelerate sales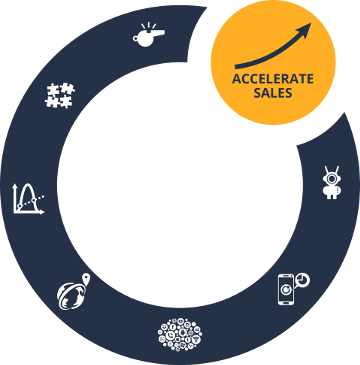 Our Success Story
Sales & Marketing Platform for Automobile Major in Oman

Towell Auto Center LLC (TAC), are the pioneers in the automobile business in Oman since 1972. Over the last 45 years TAC has joined hands with premium international brands in the automotive and after market products segments to make their products and services available in Oman. TAC are the exclusive representatives ofMazda Motor Corporation; Japan, Geely a multinational automotive manufacturing company who owns Swedish Passenger car brand Volvo & Lotus cars to name a few, Bridgestone; Japan, Total Lubricants, France etc.

Having a strong team of field staff, TAC is implementing the "Orbyo for Enterprise" Platform for Sales, CRM & Marketing. ORBYO platform provides insights about the marketing initiatives, integrates the digital assets of TAC to the departments and empower the field staff with intelligent alerts and notification, thus delivering excellent buying experience for the customer.

Generating B2B Leads from Anonymous web visitors

A UK Based Technology company approached us seeking assistance as they began expansion into the United States. Our LeadsGenMagic (leads generated like magic) service made their entry into the US market smooth and successful. Using our LeadsGenMagic tool, they were able to implement their strategy to identify restaurant owners who visited their website. Our location based insights made sure all the data they handled was relevant and helped them efficiently convert website traffic into leads and then into sales. Within 45 days of using our platform the company generated 19 leads, resulting in 30,000 Euros worth of business.

Optimising spend by more than 40% in the second month

A Bangalore based co-working space used enlisted our help in enhancing their marketing returns. By streamlining their leads generation, enhancing coordination between their strategic and sales teams and making the process of finding and engaging with potential clients cheaper and more efficient, we helped them achieve greater returns on their marketing spend than they expected would be possible.